Before You Go...
Most patients are familiar with the General Dentist. The general dentist is educated to provide comprehensive services from dental examinations to dental surgery. While most dental procedures can be provided by the general dentist, a patient may be referred to a specialist if the general dentist believes special expertise is necessary.
The American and California Dental Associations (ADA & CDA) recognize these twelve types of specialists:
Dental Anesthesiology – Deals with managing pain, anxiety and overall patient health during dental, oral, maxillofacial and surgical or diagnostic procedures.
Endodontist – Deals with the prevention, diagnosis and treatment of disease and injuries of the internal soft tissue of the tooth (root canals).
Oral & Maxillofacial Radiologist – Uses imaging and associated technology for diagnosis and management of a range of diseases affecting the mouth, jaw and related areas of the head and neck.
Oral Medicine – Deals with diagnosis and management of medically-related diseases, disorders and conditions affecting the mouth, jaw and related are of the head and neck.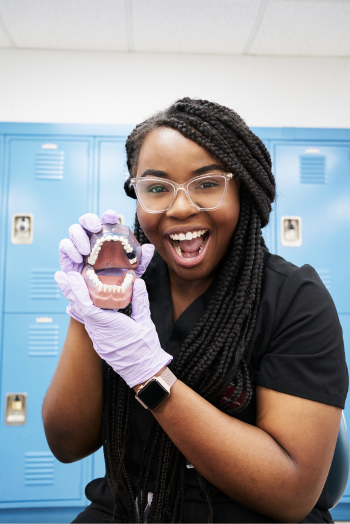 Oral Pathologist – Researches the causes, development, and effects of oral diseases.
Oral and Maxillofacial Surgeon (OMS) – Treats injuries and deformities, extracts teeth and performs surgery of the mouth, jaw, and face.
Orofacial Pain – Deals with the diagnosis, management, and treatment of main disorders of the jaw, mouth face, head, and neck.
Orthodontist – Prescribes and places corrective devices, such as braces, to align teeth and improve health and appearance.
Pediatric Dentist – Specializes in the dental health of children from birth through adolescence.
Periodontist – Treats diseases of the gums.
Prosthodontist – Designs and fits bridge-work and dentures.
Public Health Specialist – Coordinates and administers community-wide dental care programs, including public education on the prevention of dental disease.
Members of the Dental Team – Who Does What
The Dentist – The dentist is responsible and accountable for everything that goes on in the dental office. Only the licensed dentist is educated and trained to diagnose dental problems, plan treatment or prescribe medications. As long as the licensed dentist supervises, certain phases of dental treatment may be delegated to other members of the dental team.
The Dental Hygienist – The dental hygienist cleans teeth and performs other functions under the direction and supervision of a licensed dentist. There are two categories of dental hygienist:
Registered Dental Hygienist (RDH
Registered Dental Hygienist in Extended Functions (RDHEF)
Dental Assistant – Under the supervision of the licensed dentist, the job of the dental assistant is to help the dentist. This includes taking x-rays and performing other support functions. There are three categories of dental assistant:
Dental Assistant (DA)
Registered Dental Assistant (RDA)
Registered Dental Assistant in Extended Functions (RDAEF)
Dental Office Administrative Staff – Staff members employed in administrative positions are often the public's first contact with a dental practice. Responsibilities may include telephone communication, appointment scheduling, insurance claims management, financial arrangements and collections, treatment plan presentations, personnel management, and practice marketing. Larger practices often have several administrators who specialize in these various duties.
Dental Laboratory Technician – A dental laboratory technician makes dental prostheses, which are replacements for natural teeth to help people eat, chew, talk or smile. Technicians are valuable members of the dental care team although they rarely work directly with patients. They receive instructions from dentists and use impressions (molds) of the patient's teeth or soft tissue to create full dentures, crowns, bridges, and/or orthodontic appliances. They often perform much of their work without close supervision.
Interested in a Dental Career?
If you are in high school, enroll in college preparatory classes in chemistry, biology and algebra. Receive a broad exposure to science and math. A well-rounded liberal arts education is also desirable. If you are currently in college, build a solid foundation in the natural sciences – especially general biology and inorganic chemistry. Psychology and business courses can also provide background important to your success as a dentist. You don't have to major in science, but you will need to complete the pre-dental science courses.