JVS DA Programs & Services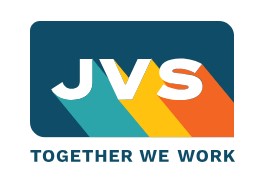 Dental Assisting & Staffing Programs
Trouble hiring talent for your dental office?
JVS Dental Assisting (DA) Program and DA to RDA Career Advancement Program
JVS can help! Tap into JVS's talent pipeline to find local, qualified Dental Assistants and Registered Dental Assistants that live within a 10-mile radius of your dentist office. SFDS and JVS (Jewish Vocational Services) are working together to bring an innovative occupational training partnership/opportunity to SFDS members seeking dental assistants. Dentists host a DA extern or nominate one of their current eligible DAs for the JVS DA to RDA Career Advancement Program. Click JVS Logo for more information.
JVS Staffing Services
JVS also provides staffing and recruitment options for a host of office needs. Consider JVS as your no-cost alternative to staffing or recruitment agencies. With JVS you can fulfill your business needs while helping people get back to work with the right training.
JVS is a nonprofit workforce development agency. For more information about either program, please reach out to Dorit Leavitt at JVS at
tberlinski@jvs.org
or visit
https://www.jvs.org/dental-employers/
.