Annual Children's Poster Contest
2023 Winners: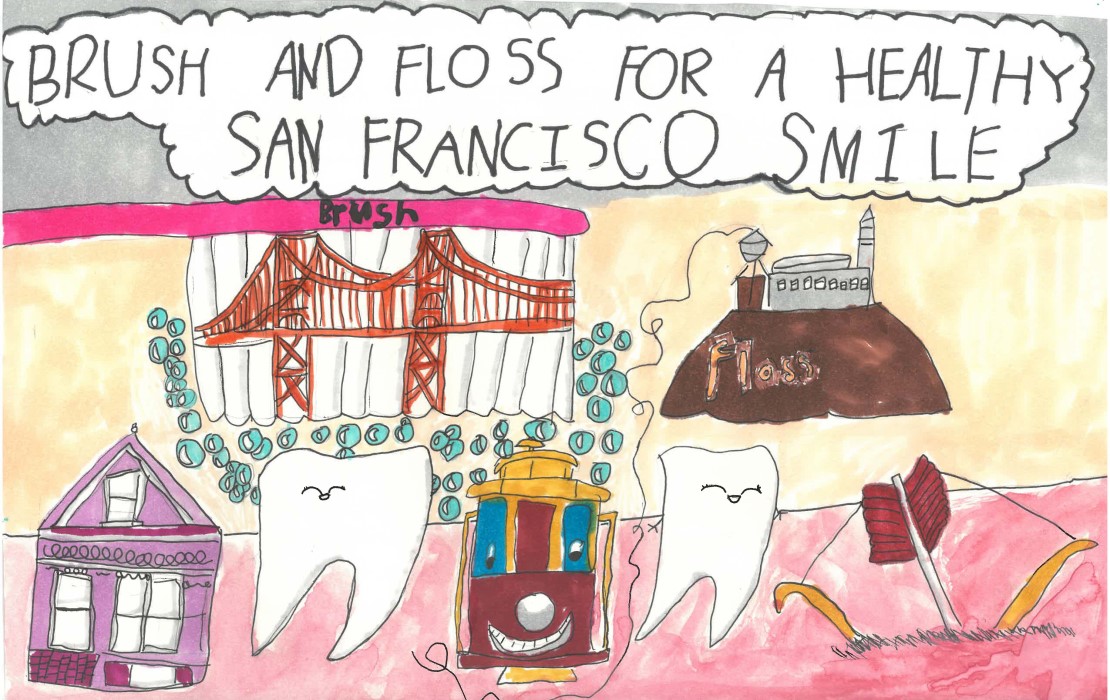 The Dr. Dennis D. Shinbori Award, Madeline, 1st Grade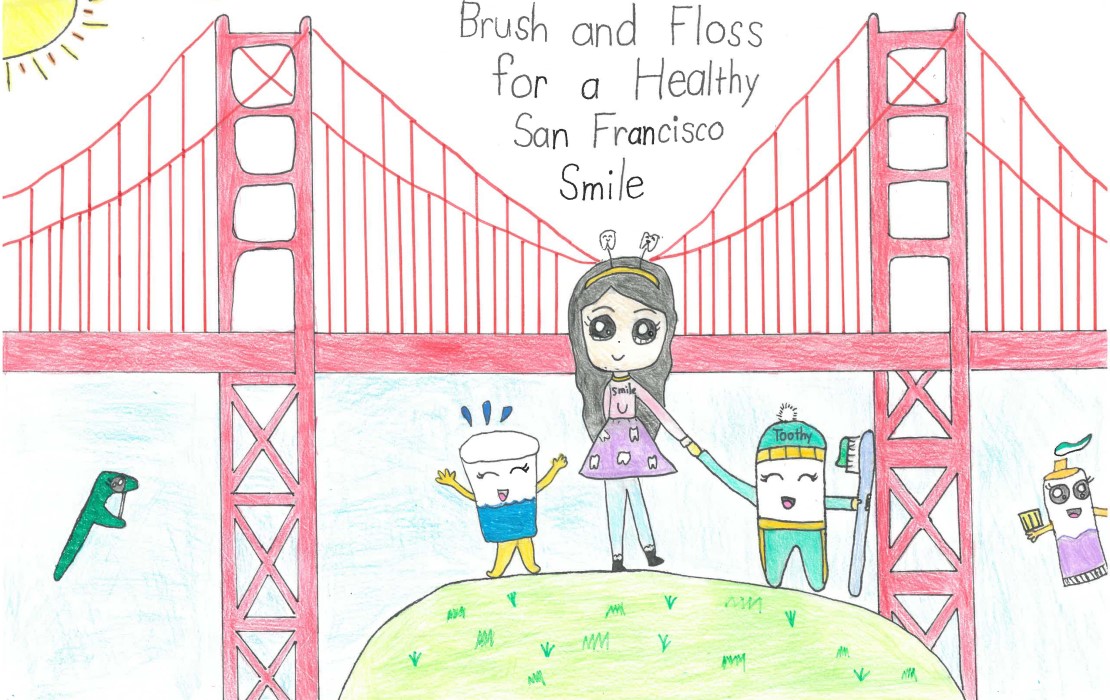 2nd Place, Kaitlyn, 3rd Grade
The SFDS Community Dental Health Committee advances dental health and oral health education through numerous programs and volunteer efforts, including the Annual Children's Poster Contest. Our theme for the 47th Annual 2023 Poster Contest is "Brush and Floss for a Healthy San Francisco Smile". Each year the Poster Contest is open to all San Francisco public and private kindergarten through 5th grade students.
The contest, held every February during National Children's Dental Health Month, facilitates learning about dental health through an artistic means of inspiration and expression. In elementary schools throughout the city, imagination and imagery abound as children reveal their talents.
By recognizing the value of community, education, and bringing it all together with fun, color, and a little competition, everyone enjoys the benefits of helping young people learn the importance of proper dental hygiene.
We want to thank our sponsors and benefactors who make this annual event possible: Pacific Dugoni School of Dentistry and Northern California Practice Sales.
2023 Winners:
Award
Name
School
Grade
The Dr. Dennis D.
Shinbori Award
Madeline H.
Chinese Immersion School at De Avila
1st
2nd Place
Kaitlyn M.
Cornerstone Academy
3rd
3rd Place
Caden C.
Cornerstone Academy
1st
3rd Place
Zhiling Z.
John Yehall Chin School
2nd
3rd Place
Darren O.
Jefferson Elementary School
5th
4th Place
Haoran/Jamin H.
Spring Valley Science School
5th
4th Place
Penelope M.
Jefferson Elementary School
4th
4th Place
Ryan H.
John Yehall Chin School
3rd
4th Place
Michelle L.
John Yehall Chin School
2nd
4th Place
Remy M.
Chinese Immersion School at De Avila
Kindergarten
4th Place
Kaylee Z.
John Yehall Chin School
1st
5th Place
Terrence M.
Cornerstone Academy
5th
5th Place
Jasmine D.
Cornerstone Academy
4th
5th Place
Ginnie W.
Spring Valley Science School
3rd
5th Place
Angeline W.
John Yehall Chin School
2nd
5th Place
Denny L.
John Yehall Chin School
1st
5th Place
Teresa C.
Spring Valley Science School
Kindergarten
6th Place
Hannah S.
John Yehall Chin School
1st
6th Place
Ashton N.
Spring Valley Science School
Kindergarten
6th Place
Olivia L.
John Yehall Chin School
2nd
6th Place
Anita X.
John Yehall Chin School
3rd
6th Place
Christopher C.
Zion Lutheran School
4th
6th Place
Gabby W.
Spring Valley Science School
5th
7th Place
Abrielle L.
Cornerstone Academy
Kindergarten
7th Place
Katie S.
Gordan J. Lau
Kindergarten
7th Place
Skylar T.
Gordon J. Lau
Kindergarten
7th Place
Chloe G.
Gordon J. Lau
Kindergarten
7th Place
Kaitlyn Z.
John Yehall Chin School
1st
7th Place
Adam X.
John Yehall Chin School
1st
7th Place
Anthony Y.
John Yehall Chin School
1st
7th Place
Devon D.
John Yehall Chin School
1st
7th Place
Yilia H.
John Yehall Chin School
2nd
7th Place
Kaylee W.
John Yehall Chin School
2nd
7th Place
Alyssa L.
John Yehall Chin School
2nd
7th Place
Angela L.
John Yehall Chin School
2nd
7th Place
Hannah W.
John Yehall Chin School
3rd
7th Place
Fernanda C.
Sutro Elementary
3rd
7th Place
Bianca S.
Cornerstone Academy
3rd
7th Place
Tina X.
John Yehall Chin School
3rd
7th Place
Angel X.
John Yehall Chin School
4th
7th Place
Hollander G.
Zion Lutheran School
4th
7th Place
Alan W.
Cornerstone Academy
4th
7th Place
Maggie T.
Spring Valley Science School
4th
7th Place
Tiffany L.
Jefferson Elementary School
5th
7th Place
Karissa B.
Jefferson Elementary School
5th
7th Place
Rosie Y.
Sutro Elementary
5th
7th Place
Amanda Y.
Spring Valley Science School
5th
Honorable Mention
Soloman W.
Zion Lutheran School
4th
Honorable Mention
Henry W.
Spring Valley Science School
4th
Honorable Mention
Diana A.
Cornerstone Academy
4th
Honorable Mention
Jaden Y.
John Yehall Chin School
3rd
Honorable Mention
Marwa G.
John Yehall Chin School
3rd
Honorable Mention
Fiona T.
John Yehall Chin School
2nd
Honorable Mention
Audrey X.
John Yehall Chin School
2nd
Honorable Mention
Kelly M.
Spring Valley Science School
Kindergarten
Honorable Mention
Maddie G.
Alice Fong Yu
Kindergarten
Honorable Mention
Jake K.
Zion Lutheran School
Kindergarten
Honorable Mention
Pearl L.
Spring Valley Science School
1st
Honorable Mention
Chloe L.
Sutro Elementary
5th
Honorable Mention
Derek T.
Cornerstone Academy
5th